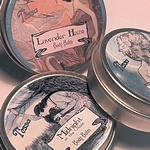 I first made this as a foot balm for my belly dancing friends, but it works famously on any part of your body that needs a little tender loving care. I'm told that elbows and knees are especially grateful for the attention.
I created that first balm using Midnight at the Oasis fragrance but have since expanded my offering to include Blue Moon and Lavender Haze as well.
Ingredients: Organic coconut oil, olive oil, castor oil, apricot oil, beeswax, and fragrance.
weight: 2 ounces
$10.00