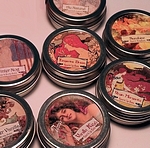 All of my lip balms are made with organic coconut oil, cocoa butter, apricot oil, castor oil, beeswax, vitamin e, caprylic/capric/stearic glycerides (fractionated vegetable oils) and comfrey-infused olive oil. Comfrey contains allantoin, a cell proliferant that helps repair damaged tissue and is excellent for helping to heal chapped and damaged lips.
French Vanilla: lavender and vanilla essential oils.
Mambo Mint: peppermint and spearmint essential oils.
Sunshine: lemon, grapefruit and lemongrass essential oils.
Tangerine Dream: tangerine and grapefruit and tangerine essential oils.
Vanilla Kiss: cocoa butter, and natural vanilla flavoring.
Virgin Margarita: sweet orange and lime essential oils.
Winter Nog: natural vanilla flavoring and nutmeg essential oil.
weight: 1/2 ounce
$6.00