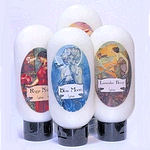 I first started making lotion only as something to put my scents into, but quickly found myself fascinated at the alchemy of it. This lotion is a result of endless experimentation and revision. It's thick and creamy, but penetrates easily, leaving the skin soft and almost powdery to the touch. A little goes a long way.
Ingredients: Distilled Water, Aloe Vera, *Behentrimonium Methosulfate (and) Cetearyl Alcohol (a gentle, all-natural, emulsifying conditioner derived from Colza Oil), Glycerin, Olive Oil, Jojoba Oil, Plantain Extract, Hydrolyzed Wheat Protein, Vitamin E, *Fragrance (essential oils &/or high-quality fragrance oils), Phenoxyethanol and Cetylyl Glycol, (preservative)
Contains no Mineral oil, Polymers, or Parabens.